Jump to the end of the article and watch a video of the award ceremony and presentation of the project.
Visually-impaired people everywhere use the conventional white cane to get around in public spaces. While the cane is good at helping users avoid obstacles at ground level, it is not as effective for obstacles situated at hip level or higher. A "virtual safety bubble" that provides head-to-toe protection in all conditions (fog, rain, low light, and direct sunlight) would allow the visually impaired to move around safely, bringing them greater autonomy.
The Inspex project, which was completed in 2019, resulted in a portable environmental perception device that leveraged the CEA's SigmaFusion™ technology to combine multiple sources of data, including distance measurements. The device is mounted on a white cane and coupled with an audio interface developed by GoSense. Potentially-dangerous obstacles are detected and located in 3D, creating that "virtual safety bubble" around the user.
"It takes a visually-impaired person just a few hours to learn and get accustomed enough to Inspex to move around smoothly, avoiding obstacles without touching them. Obstacles in the environment are located in 3D and the user is alerted through an audio-based augmented reality environment," said Suzanne Lesecq.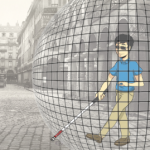 A model of the environment around the user is created from the distance measurements provided by the sensors inside Inspex. The model is then analyzed to outline the "virtual safety bubble" around the user. Any obstacle inside the safe zone is 3D-located and can be "heard" by the user through out-of-ear headphones.
The CEA, which coordinated the project, also optimized CEA-Leti's Ultra Wide Band (UWB) radar technology to meet the weight, power, and space requirements of the device. The radar can detect moving obstacles and estimate relative speed, heading off potential collisions.
Embedded environmental perception algorithms were developed by the CEA-List Carnot institute in conjunction with CEA-Leti. The algorithms factor the movement of the device into the digital model of the environment and analyze the model so that relevant information, (potentially-dangerous obstacles in the user's path over the user's entire height) can be extracted.